Still not sure about which company to choose for your training? Here are a few testimonials from some of our BDS Driving School Instructors.
David Thorpe ADI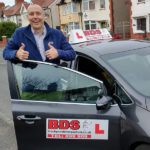 "Can't fault the training and support I received from Donna, Emma & the whole BDS team. Spoke to several driving schools whilst deciding whether to take the plunge. Donna was the only one that genuinely seemed interested in my development more than how much money I'd be giving them. Completed my training with Emma. She is very knowledgeable and extremely helpful. Got rid of my bad habits to pass the Part 2 and was invaluable in getting me through my Part 3.  From the 1st baby steps of starting out on how to teach others how to drive, to the panicked calls and texts the night before / morning of my actual part 3. The whole BDS team are only a group-chat away to offer any support and advice if needed. No regrets in my decision to change careers and definitely no regrets in my choice of trainer"
Norrie Umpleby ADI
My name is Norrie and I am a driving instructor with BDS Driving School. 
In 2003 I lived in Yorkshire and I felt I was at a standstill in my job, I wanted to do something I really enjoyed so started to think of other options to fulfill my life. I come across an advert for driving instructing and decided to investigate. I liked the idea of being my own boss. I also liked the idea of making a difference, be able to teach people a life time skill, to learn to drive safely. 
I started on a trainee licence which I feel helped me as I was learning whilst instructing.   I originally passed my part 3 test and received my ADI badge in 2004. I was teaching in a manual car at that time and really enjoyed the job. However, in 2007, due to unforeseen circumstances I didn't renew my badge.   After a couple of years, I regretted not renewing my badge and wasn't in a position to retrain. 
After I moved to Fleetwood, I decided to look into being self-employed again and I decided I wanted to get back into driving instructing.  As I didn't know the area very well I looked around to find a school that would give me the training locally so that I could get my ADI badge back again. 
I found BDS on the internet and I liked what I saw. I looked at others and no one else compared to BDS so I made an appointment to see them. From the first time we met I knew this was the school for me. Donna and Tony made me very welcome and answered every question I had. They helped me tailor the training to suit my needs. 
I passed my tests and got my ADI badge back again in March 2018. I left my admin job and started teaching straight away. I now instruct in automatic and really enjoy it. 
BDS transformed my life and I have a full diary and ALL the help and support I could ever want. 
I have never looked back.
Norrie Umpleby ADI
Stephen Wild ADI
"Before becoming a Driving Instructor I drove a Black Cab for 22 years.  I got into being a Driving Instructor by accident, I started with a non-driver and got them through to a pass, it was a great buzz.
You will often build a bond with people and to see them pass their test makes it very worthwhile.
I worked as in independent instructor for many years, but I found it difficult finding work during the recession and so I joined BDS Driving School. I have never looked back.  My diary is bursting and there is always a waiting list of customers.  We work on postcodes close to our homes and so it's always very local customers we get.
With BDS I like being part of a team, a driving instructor can sometimes be a lonely profession, whilst you meet plenty of people during your job you don't always mix or talk with other ADI's.  Being part of BDS changed that.
In todays world you need marketing, this is something I am not very good at, so I let BDS do all that, its something I don't even need to think about anymore.
Stephen Wild ADI
Shane McKenna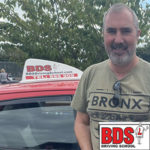 My Driving Instructor Trainer was Paul Tilling at BDS. From the 1st minute to the last minute….I knew I had the made the correct decision to train with BDS. Paul is extremely easy to chat to and will make you feel at ease at every given opportunity. The amount of up to date knowledge Paul has about becoming a Driving Instructor is testament to his dedication to constantly update his own continued professional development and pass this onto his pupils. If he cant find the answer straight away to a problem, he will endeavour and leave no stone unturned until he finds the answer. This quality makes you feel that everything is covered in your learning journey as a Driving Instructor. Although slightly more expensive than the nationwide companies you get without doubt and more personalised and 1 to 1 tuition which is so valuable and not to be overlooked.
Dan Jenkins PDI
"I have been training with Emma Bird, I couldn't ask for a better trainer, she is helpful knowledgeable and simply amazing!  I have opted for the Pink Licence to get on the job training before taking the part 3 test.  I have the use of a car supplied by BDS whilst under the trainee licence so I don't have the outlay for a car until fully qualified.  Donna and the full network of BDS Instructors have welcomed me and been there to answer any questions I have had – from the start it has been 5 Star!
100% recommend training with BDS Driving School!"
Mark H
The training I am currently receiving from BDS is brilliant, Paul who is training me helps me a lot and is very thorough in teaching me on how to do the job to a top standard. I also receive great help from Donna. She is always messaging to see how I am getting on with the training and always offers help if I need it.
Mark H
Paul Tilling ADI
"I have been with BDS since I qualified in 1997, I can honestly say I have never had an empty diary, the way they book the lessons in works well.  Card payments are an option for pupils that forget their money on the day. I know it sounds cheesy but Donna and Tony feel part of my extended family.  All is great with BDS.
I am proud to be part of the Training Team within BDS, I believe in the company and am keen to help it develop and grow even further"
Paul Tilling ADI
Mandy Kerr
I chose BDS because it is a local company, and I read their reviews. I spoke to Donna and instantly felt comfortable and knew I had picked the right team for me. She was very professional, explained everything in great detail and helped me to work out a plan that worked for me. There was no expectation that it was this way and the only way. We are all individuals and learn different ways and sometimes need different approaches to achieve our goals. The team at BDS are great and very helpful with anything I asked or needed. Emma was my trainer and I was in great hands, we all have those driver faults she soon found mine, but gave me great advice on what I need and great praise when I achieved.
If you want to become a driving instructor you can't go wrong with this team, you will feel a belonging that is personal to you and not just another number in a larger organisation. You will feel and see the support you get from the whole team. Join us at BDS. Mandy
Steph Afifi ADI
"I was a Midwife before become a Driving Instructor, I liked driving and teaching skills to people and so I decided to combine the two.
I like the freedom that being a Driving Instructor gives you, I have the flexibility of time management, I like working for myself but being part of a team as well.
I have worked with BDS for 8 years, since I qualified, and found them to be fair with their work distribution, flexible and you are never obliged to take students on.
They encourage teamwork and are always friendly and professional.   With BDS it is relaxed and friendly, no pressure to take students and their fees are reasonable too!
I would not hesitate to recommend a franchise with them"
Steph Afifi ADI
Marc Tilbury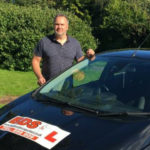 I was trained by Tony Sumner, I found him very flexible – very easy going and clearly extremely experienced. I would highly recommend BDS to anyone. I am now very pleased to be able to say that I have completed my training. Tony and Donna have both been incredibly supportive throughout and I am enjoying working with BDS.
Marc Tilbury PDI
Dave Grundy ADI
"Before I became a Driving Instructor I was a coach driver, I had taught my sons and daughters, ex-girlfriend, neighbours and found I quite enjoyed it and got a real buzz when they passed their tests. So after leaving Duple Coaches I trained to become an instructor.  I am passionate about my job, the work you put in to make good drivers out of people is great.  I am a people person and I get great job satisfaction.  I like being part of BDS, its brilliant, I sleep at night, the work is there, no dashing about when the phone rings in case you miss a new student. Also if you fall ill when a student should be on test another BDS instructor will come to the rescue! "
Dave Grundy ADI
Gillian Sherry ADI
"I have been with BDS for 13 years, when I first qualified I was given every support and encouragement from Tony and Donna, that has never changed.
The company has gone from strength to strength and now has 15 instructors on the team.
Donna is continually striving to improve and grow the business, she keeps the team well informed, and is open to suggestions and ideas, bringing the team together, for discussion and meetings.
Although I work independently, I always feel part of a team, and there is always back up from the school. Work comes through on a regular basis and I always have the amount of work that suits me. 
The franchise rates are realistic, competitive and affordable.
To support your in car training, teaching aids are provided, cancellation policy in place to protect your earnings, advertising taken care of and work wear is also available.
Donna has put together good package deals for pupils, including revision notes, help with theory, car maintenance and good deals for either hourly rates or intensive courses, hence the growth of the school.
A growing company, that still maintains a team feel"
Gillian Sherry ADI